I'm getting worse. I don't know when I started to feel rattled by the argument "At the end of the day, feminism is about choice!". All I know is that within an alarmingly short period of time, hearing the phrase in any context made/makes me feel like this: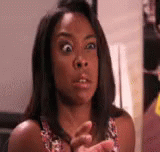 I must admit I do find it difficult to understand, practically, where choice fits in with feminism. I think I can set out my theoretical view quite easily – feminism is about fighting inequality, bias, gender-based harm etc against women. One of the ways sexism or the patriarchy works is to take away choices from women; choices that men readily have. Therefore restoring those choices to women must be an act of feminism. However, women can make sexist choices….. Okay, so maybe it's not that easy  after all.
Clearly, choices are not made in a vacuum.  Some choices have their origins in historical conditioning or even women obtaining what advantages they can from patriarchal systems. For example, the choice to take back a serial cheater in a culture where unmarried women are pitied and scorned and the blame for the  failure of a marriage is laid squarely at a woman's feet surely must warrant some scrutiny.
On the other hand, I don't want to stray into thinking that, whenever I disagree with a woman's choice, it must be because she is too stupid or conditioned to understand all the relevant implications. So, where do we go?
Extreme Examples: When is A Choice Unacceptable?
My first gripe is that the bald statement 'feminism is about choice!' misses the point if it is meant to prohibit any criticism of a choice because it is made by a woman. I think, deep down every feminist understands this.  A sexist act or gender-based violence is not transformed into a feminist or even a fair act by choice or  consent.
To use an extreme example, take a mother who was subjected to FGM and wants to carry it out on her own daughter. Say, in her view, her own operation was done very well, she can't see any way in which it adversely affects her life and she wants her daughter to be brought up in accordance with her traditions.
Of course, our first argument is that she has no right to make that decision for her daughter. Okay, she says, putting down the blade, but 'I maintain that it hasn't caused me any harm or distress. Please stop putting the idea out there that it is an inherently evil thing and listen to people like me who have actually gone through it'. Now I don't know if such a woman exists – presumably yes because there are women willing to do it to their daughters.
It's very likely that anyone who supports FGM when they have gone through it themselves is 'brainwashed' but we can't prove it. The reality is that we fight and rail against FGM, regardless of women who choose to believe that it is advantageous, because it is unfair and cruel for girls to go through that physical trauma and to have their sexual organs and responses interfered with in that way.
Take another extreme example – this time in a distressing video I saw which depicted a Russian couple of some ultra-orthodox Christian sect. I'm not sure whether this had anything to do with their religion but the husband demanded complete subservience from his wife. His wife was articulate, published and seemed to completely buy into the idea that it was fair and necessary for her to endure beatings from her husband because of her, and women's, natural deviousness.
Like the FGM example, there is  some doubt as to whether I can blame 'choice' for these women. However, there are many domestic violence victims who support and defend their partners and ask the public to respect their choices to stay with their partners even after footage of shocking violence. The fact remains that we cannot prove that these women don't have the mental capacity to settle for beatings in exchange for whatever they think they are getting out of the relationship.
Indeed, beyond the initial feeling of shock and pity, many of us don't really care deeply about the welfare of these strangers. A lot of our strong emotion is outrage and horror that we live in a world where people think that this is a viable way to live. We don't want people living this way, partly because one woman enduring this has consequences for all women in a world where domestic violence is very much a pattern of the patriarchal society that we are struggling to get out of.
(Directed) Sexual Empowerment
On to less dramatic examples  – this part deals with the fact that we identify behaviour and patterns that are rooted in, and in some cases the very foundation of, sexism, pronounce them bad but then reserve a space for men to keep practising them as long as there are good things attached like consent (technical or not) or agency or not judging. And if that's not enough, the focus shifts to protecting the choice to do these things and not the original patterns which were being fought against in the first place. Therefore anyone criticising these choices becomes the real anti-feminist because they are apparently attacking choice and 'feminism is about choice (!)' after all. As you can tell, this really cheeses me off.
Before I give examples I will freely admit that I'm not the most sex positive person in the world.  However,  I  don't really have anything against nudity per se. My first, second, and third thoughts when I see a picture of a naked woman are to compare her figure to mine and vow bitterly to 'get it together'. This is before any moral, social or feminist thoughts.  Also, I'm not particularly modest myself.
The Passive Mistress
Disclaimer in place, let's move to the first example which  is what I'd like to call the 'passive mistress'. This is a geisha-like relationship, not to be confused with an ordinary extra-marital affair, between a wealthy man and an often much younger woman. The woman is not a sex worker but the relationship is rather one dimensional – he gives her money and other advantages and she only shows the complacent, compliant part of herself – always ready for sex, always groomed and never arguing with, irritating, or challenging him. He is king in her house.
To me the feminist issue is that the character being played by the woman is a figment of chauvinist society's imagination. It's this idea that a woman exists solely to please her partner and free him of all the troubles of living in this troublesome world. It's a bit like the 1950s ideal that when a man comes home from work, rather than reflecting real life, his house should be an oasis of calm. It should be perfectly tidied, there should be no sign of the children, a meal should be perfectly prepared, drink and slippers in hand. All things that would keep a woman slaving away physically while suppressing any emotional or mental needs that she may have. On top of that, she is supposed to keep herself forever youthful, attractive and perfectly groomed and very much aware of her sexual 'duties'.
The feminist outcry was that women, wives and girlfriends were being reduced to this one-dimensional rearing, domestic creature whose only reason was to please her man  sometimes to the detriment of her children and always to the detriment of herself. To expose my radicalism (well, expose, scratch the surface, who's monitoring?), it is sexist and dehumanising to want your significant other to do nothing other than look pretty, provide for your needs and never challenge you.
Why then do we approve of men doing this in the name of consent and choice? A passive mistress, geisha, runs girl, sugar baby, whatever should not be demonised  but I don't agree that we have to act like it's a choice that has no effect on other women. I think it is unrealistic to say that we want the standard for relationships in a modern society to be on a equal footing – both parties are individuals with their own needs and ups and downs, who are trying to make each other happy and build a life together – when we reserve this space for men who have enough wealth to escape equality this way. We also can't pretend it doesn't put pressure on wives to regress back into the intellectually-empty-vessel 1950s stereotype if it would reduce the chances of her wealthy husband from going elsewhere.
'Sex Work is Work!'
I have a similar problem with presenting sex work (not exotic dancing or stripping which I don't really consider to be sex work) and participation in porn as simply empowering choices. Again they are valid choices and for some, real choices. For sex work, I think decriminalisation would assist in regulating these choices and preventing abuse. I want sex workers to have the same right to respect and protection from harm as other women.
This is an entirely different matter from castigating someone as 'not being a real feminist' for questioning the  effect that some of these choices have on women or if they suspect that not everyone making these choices has any other option.
Perhaps prostitution, in a completely equal world, would not be inherently harmful to women (or more harmful to women than men). But we don't live in an equal world – at the extreme many sex workers are not wiling participants and there are still prevailing harmful ideas about sexuality and consent which means viewing women as sex objects still harm women as a whole.
Apparently I am not allowed to refer to the fact that some people only do sex work because of poverty.  That's now like saying people only work in McDonalds because of poverty.
I must confess that I am unable to reach that level of endorsement of sex work for reasons that I can't quite articulate.  I get that it is inaccurate to describe prostitution (a term which I can tell is fast falling out of favour) as 'selling one's body' and with the right amount of agency, it can provide more freedom than being, say, a Stepford wife but still….I don't think it's just because when transacting for money, handing someone a burger over a secure counter carries inherently less risks that going alone with them into a room, removing your clothes and surrendering to whatever act they think they paid for.
Perhaps it's personal.  Or maybe it's because many feminists and other women who promote the idea that sex work is nothing more than a commercial transaction are often lawyers, doctors and other middle-class people who have no practical concept of what sex work involves and no appetite for trying it.
It is true that some women simply don't mind or even get a thrill out of sex work but if I was dating, I would be very careful around men who used the services of sex workers, no matter how liberal they appeared. Even if I could get my head around his addiction to relating sexually to women who are there predominantly to meet his own desires; could I really be sure whether he cares or checked whether any of these women are there solely out of their own will (I'm pretty sure that most of these transactions take place online but my overactive imagination has liberal men striding up and down grotty brothels shrilly demanding EVIDENCE of AGENCY)?
Any man who enthusiastically exercises his right to view women as one-dimensional sexual objects, whether through porn or prostitution, is suspect to me. I wouldn't trust him to snap out of it when it came to 'real relationships'. Incidentally, I think that's where some of these well-meaning liberal men go wrong.
They have good thoughts and intentions but their diet of 'harmless' porn may explain why they are reluctant to take no for an answer when they come across a sexually liberated woman who doesn't want to, on the first date, tangle herself into a some kind of complicated knot (that and constantly straying into wild inappropriateness. Pro-tip, liberal men: if a strange woman on Twitter is reluctant to give you her name in a personal message exchange, chances are she will feel offended and insulted if your next message is to enquire about threesomes. This is probably largely down to the fact that life is not actually a porn film. On a more serious note, enthusiastic consent also relates to, apart from touching, verbal communication and includes recognising and not ignoring signals that a woman does not want to have any kind of intimate conversation with you.)
Female Entertainers and Hypersexuality
A brief word about the pressure on female entertainers to be hypersexual: by this, I don't just mean sexy, like the picture of Tina Turner above which I've only used because of the title of this essay and her brilliant song 'What's Love Got to do With It'.  I'm talking more about Nicki Minaj's Paper Magazine Shoot or Beyonce's sudden self-discovery in her videos for the 2013 album 'Beyonce'.
Great if you make the choice; I just don't believe a lot of women do make the choice. And if they do, it's not for the reason that you think they do. I've seen singers in the….shall we say autumn of their careers, put under pressure to release that hyper sexual photoshoot. I've seen aspiring models verbally abused and screamed at for not wanting to 'go topless'. I've read of actresses responding to a script which simply states that 'she shows her tits' for no reason that is connected to the storyline.
Everyone wants to be sexy and attractive; I think fewer people want to be as constantly naked as some kind of prisoner of war. I don't believe Nikki Minaj or Beyonce really want to. They may not mind; they may accept it as a necessary step for a female entertainer to achieve world domination but that is not the same as the spontaneous expression of sexuality that is being presented to us.
So what's the harm? These women are perfectly entitled to make commercial choices to disrobe, aren't they? What's the worst that can happen apart from Jennifer Lawrence freezing in a tiny dress, while her male co-stars are covered with layers of clothing talking about "ch-ch-ch- choice."?
Yes a commercial choice is still a choice but I think it's quite wrong to rip through people who question what this is doing to female self-esteem and future female entertainers. Firstly, it sends out the message that anything a woman has to offer in the entertainment industry has be accompanied by a side-order of T&A.  It chips away at our humanity; it seeks to reduce us. No matter how successful or powerful we are, we can only obtain recognition by being naked and hold on to fame by being even more naked.  It makes it all the more easier for men to insist that aspiring and usually quite vulnerable and young female entertainers are as naked as they (men) want them to be (there is an interesting story about a young Beyonce walking out of a photo shoot when the French director had the bright idea of her posing naked covered in honey).
Of course a lot of that naked investment is lost when our looks start to go.  It is a double con – if you want me to stop pretending to be sane about this – it is often not really a choice in the first place and the fake non-choice has a negative effect on women as a whole.
Purity Culture and My Idiotic Childhood
The other end of the spectrum is virginity and purity culture. I've written about virginity. All I have to add is this – when I was a teenager, I used to regard women who  scorned virginity as extreme cases of 'pick-me's' or I would have if the term existed in my youth.   Of course, like everyone else, I regarded too much female sexual activity as sluttiness but I like to think that even then my suspicion of any kind of empowerment that seemed male-pleasing was already being formed. I thought basically women like this wanted men to want them so instead of holding out and making men suffer like a good decent woman, they gave it away freely, under the guise of expressing themselves sexually but with the real intention of holding on to men. A bit like I regarded women who appeared to like football. Absolutely disgraceful and a complete reduction if not erasure of female sexual identity. I'm only just understand how harmful purity politics and culture are.
Summary
Just in case anyone is in doubt or cares, I don't think sleeping with men for money or 'advantages' is a good thing or anything approaching an ideal.   I think women should get on with their lives, whether it's careers, relationships, sex, friendships, study, amassing wealth,  in accordance with their values,  instead of all this endless worrying about how their sexuality is going to get them a man, job, money, grades or whatever.   That, to me, is what a equality looks like.  And yes, I do think it's wrong, in that it is participating in the hurt and deceit of another human being, to have a covert sexual relationship with a married person or a person in a relationship.
It's just that it's none of my business what women choose to do.  My feminist issue has always been, apart from wondering what aspect of patriarchy encourages women towards these choices,  that women are demonised  for the very same acts that men are held blameless for.  In fact, society would  rather blame the men's wives, who had none of the illicit sex, than the men who instigated and committed them.
A more recent feminist issue seems to be that we are concentrating on and regressing back to the sexist paradise for men where women existed for their domestic and sexual pleasure instead of addressing the issues that got us there in the first place, under the guise of choice.
Domestic Duties
Moving on to my bugbear of the share of domestic labour in marriage and partnership. The choice here relates to a range of heightened level of domesticity for the female partner.
I'm definitely not one of those feminists who think that  it is a crime or pity or shame when a woman chooses to give up her career, temporarily or permanently, to be a stay at home mum or just wife or girlfriend. There are good valid reasons for this – a child that needs extra care, a female partner earning less (although there is a sexist back story to this) and the sometimes astronomical cost of child care. Being a working mother myself, I personally can say my job does get in the way of what I would consider optimal parenting (but would I optimal-parent? Or would I just sit around clicking on Twitter and overeating?).
My only concern is leaving the woman with less economic power – money that is not provided by her male partner and increased difficulty in getting back into work. This probably makes it harder to leave a harmful marriage and even with laws relating to shared marital property opens her up to humiliation and accusations of gold digging as her very valuable contributions to home-making are disregarded when she tries to secure a share of the joint property (notwithstanding stories of hard-done-by sports men).
Also, I'm a bit grumpy that workplaces around the world and male partners can't collude to allow women to work more easily and be mothers. Why does the bulk of childcare emergencies fall on mothers? Why don't men do more in the home?
This brings me to the feminist or woman who choose do all the cooking or take the lion's share of housework. The woman who is happy doing all the cooking and cleaning for a boyfriend she only met a month ago. The woman who chooses to submit to her husband. But if she chooses to, aren't I the real enemy of feminism, progress and everything else to comment negatively about her choice? Isn't feminism supposed to be about being what you want to be?
It bloody well isn't – it's an organised system to fight harm and inequality. But leaving that aside, it's the  inherent unfairness that bugs me – why on earth should one gender be allowed to be domestically incompetent leaving the other to run around after them like a toddler? I've had otherwise sensible women tell me  that a man shouldn't go into the kitchen if he has a woman. Put that way, any self-respecting feminist would and should be outraged. And it's not just about the cooking. It's the constant drudgery of unshared housework. We acknowledge that this unfair system exists yet our answer to it is to create a space where, through apparent choice, men can continue to exist within it and defend that space with every breath in us.
Also, let's examine that apparent choice, shall we? It's not hard to imagine that the ability to make this choice would be a highly desired asset for men that have no interest in changing the status quo. Perhaps then finding a partner is the predominant factor behind this choice rather than a nurturing nature and a desire for only four hours sleep a night.  Also, I wonder how many men made the 'choice' to take on a significant share in the household chores before second wave feminists started hinting that they should do so?
But fair enough, if a woman thinks that this will  increase her chances at partnership, she's perfectly entitled to do so. To have this presented to me as feminism sticks at the back of my throat; to be told that if I challenge it, I'm the real anti-feminist sticks back even further.