Is Sexuality a Personal Matter?
I saw a strange message on the internet the other day (okay, I'll admit it was a tweet; I saw it because I was on Twitter, like I said I wasn't going to be anymore) which said that it is homophobic to say that a person's sexuality, or to be specific homosexuality, is between that person and 'their' God.  At first the criticism struck me as a petulant extension of the definition of homophobia that seemed to insist  "Celebrate every part of my life at all times or you are a bigot!".   Then I thought about it some more.  At worst, the criticised statement (about being gay and God) suggests that  it is patently wrong to have gay relationships or be gay, but far be it for anyone to say this aloud in these politically correct times.  It could even be seen as a sinister warning that the gay person will eventually find out whether their 'lifestyle' is wrong or right when they come face to face with their creator or at least leaving the gay person to battle the whole thing out with their conscience.
The most benevolent translation is that it is acknowledging that certain religious texts, including the Bible, appear to condemn homosexual relationships which of course seems massively unjust since people can't help being attracted to members of their own sex any more than other people can help being attracted to members of the opposite sex.  The person saying it isn't sure what the right answer is and is leaving it to the person that has the 'problem' – being both gay and a member of a faith which appears to condemn homosexual sex – and God.   It is also an indication that the person saying it is bored of the issue since they are probably never going to feel the urge to have gay sex and  do not intend to discriminate against or take a stand against (or for) gay people in general  – the live, let live and leave me alone in peace 'lifestyle'.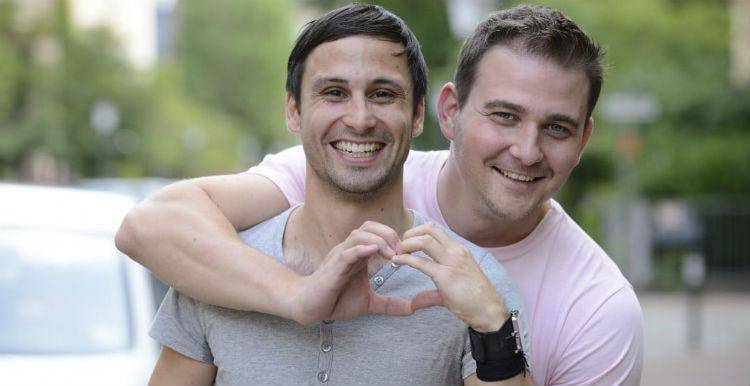 The obvious problem is that, like other minority groups, (some) gay people don't just want to be tolerated in the strict sense, they want acceptance and after the persecution they have been and are still going through, some celebration would be nice, thank you very much.  Knowing that someone secretly thinks that their personal lives and a part of their identity may be wrong tends to make them grumpy, regardless of  how friendly that person is and how willing they are to spend time with gay people.
I don't think it is completely analogous but I compare it to my interracial marriage.  It is rarely expressed to me but there are people who are not very keen on mixed marriages for a number of reasons. Apart from die-hard racists and hoteps (and idiots on Twitter who say they would rather ingest bleach than have a white boyfriend – except they put it more starkly than that), people worry for my husband, and other white men, that he is going to end up with 'black children' who presumably they feel that he will be unable to completely identify with on some level. 
There are people who worry that the children will grow up to be culturally confused.  I've heard of  older black people who have had traumatic experiences with racism and aren't therefore comfortable with interracial relationships and people who doubt both partners' motives (e.g. the white partner has a fetish and feels he is doing the other partner a favour and the black person is trying forget her roots) .  The bottom line seems to be that, in a world where race is very much an issue, people think we are adding unnecessary complications to the already difficult tasks of marriage or long term partnership and raising children.
I know that these views exist and that some of them come from a more complicated place than pure unadulterated racism and I can sense that some people have unasked questions when I tell them my husband is white.  However, even knowing this, I would completely livid if someone actually voiced their doubts about our relationship now that we are already married – for instance, if they said "Hmmm.  That's interesting.  Well I would have thought there would be obvious issues but I'll leave it to you and Iain (and God) to sort out".  I think this may be how  a gay person, who has come to terms with their personal life and their identity, feels like when someone announces to them that their sexuality is between them and God.
British Asians and the New Gatekeepers of Interracial Relationships
Speaking of interracial relationships, I am beginning to really dislike a common response to news that an Asian person  has started or is in a relationship with someone of a different race, which is immediately wondering  whether there can be any future in the relationship and whether the Asian person can prove they are not just messing the other person about until their suitably Asian spouse pops up from the ether. This wondering always seems to be by people  who themselves are not in and have never contemplated being in a relationship with someone of another race.
The stereotype is that there is some expectation and pressure on people from certain Asian groups to marry someone of their own race, religion, sometimes caste and sometimes from the region of the country that their predecessors came from.  The received wisdom is that if you are dating an Asian person, you need to take this into account and you may want to check their position on this before assuming that the relationship has the potential to lead something serious or permanent.
There may be some truth in this stereotype (leaving aside the grim stories of women who marry someone against their family's wishes) and, although I don't think Asians are more likely to lead anyone down a garden path than any other group of people, it is a conversation you may have to have provided that you are in the actual relationship.  Just like the conversations I have had with white guys who suddenly announced before our first date that they "don't want cafe au lait kids, just-so-you-know" (it was the nineties; they can't try it now) or who  jokingly asked about my immigration status, the implication being that a good looking woman of African origin, like I was, I couldn't possibly be interested in them as anything other than a visa mule or African guys who wanted to ensure my women's lib thing didn't extend to not cooking on command if the relationship became serious.  Apparently, you've got to check these things sometimes.
However I am not sure how this has evolved into strangers or people who are not actually in the relationship – and as I've said, who have shown no inclination towards dating someone of another race  – having the gall to ask Asian people what the future holds for their relationship with someone of a different race.  A work colleague was recently harangued so at an office party.  "That's interesting." Woman she had only met that evening said " So what's the future for your relationship, then, what with you being Asian and that?"  It sounds like something out of seventies sitcom.  Come to think of it, this gumption hasn't evolved at all.  It has been festering in the background waiting for Tony Blair's New Labour and its stupid political correctness to go away.  It has been waiting for Trump and Brexit!
Also, say an Asian person does come from a family which has certain expectations in terms of who they partner up with and how.  Are they really an evil manipulator  for taking this into account when looking for a potential life partner?  Other members of society are permitted to consider race, class, and whether their new partner will get along with their family, friends and work colleagues.  Should an Asian person be obliged to, at the first whiff of good loving, rudely shun anything their family, culture or religion has to say about their future marriage to prove that "they are not the real racists after all"?  As long as they are honest about their intentions and the situation (like every other member of every other race always is at every time, as we all know), are they not allowed to take a balanced assessment of all relevant factors when deciding to who they want to settle down with?
I think I'm Becoming Transphobic….
I watched a disturbing video the other day.  It was of a trans woman, who did not even particularly look like a man in drag much less a woman, ranting and raving in a scary manner because she had been misgendered at a shop.  I am ashamed to say that the funniest part of the video was when she screamed about being referred to as 'Sir' when in her words "she was a woman" at this point she gesticulated to herself "obviously!!!".  As someone in the comments section pointed out, what I and all the other transphobic shits found funny was the contrast between her very manly or male presentation and her shrill desire to be recognised as a woman.  We almost felt like she should have been nowhere near that surprised that someone (a) called her 'sir' and (b) under the extremely loud verbal assault that followed, continue d to nervously stutter 'sir'.  It was in America.  If I was ignorant and prone to stereotyping, I would guess that it was a part of America where if you heard a loud, angry, deep voice, your instinct would be to respond with a 'Sir!'.
That was the funny part.  The rest of the video was tragic and terrifying in equal parts.  It was guaranteed to bring out (and I guess this is why a fair number of people shared it) all the hidden fears about the 'trans agenda' including wondering, as one tweep did, if this is what a slightly built teenage girl would be faced with if she misgendered this woman, accidentally or not, in a women's changing room before being beaten into a pulp and  whether this trans woman, and by extension many more who could be let loose in 'women's spaces', was in fact a raging lunatic, therefore allowing for the conflation of violent manifestations of mental illnesses with the mental health based dysphoria that some claim causes people to be trans.
I personally thought it was the most magnificent display of male privilege that Chimamanda was villified for talking about.  At some point the trans woman talked about 'taking it outside' (Hollywood for inviting someone to a fight) to show the salesman just how much of a 'sir' she was.   Now there are cis women who are mad enough to invite a man to a physical fight but I think we can all agree that  men tend to feel more confident taking this course of action.  Not all trans women would be evenly matched in a fight against a man, not least because some of then have physically transitioned and not all males are as strong as each other, but this is one bit of male privilege that lingers in society.  It's not just feeling that you don't have to avoid provoking violence from men or initiating it, it's having the confidence to know that if things continue not to go your way, you can beat anyone and everyone who is making life difficult for you (or at least have a good go).  One wonders whether the (trans) woman in the video was angry about something completely unrelated that had happened before she was filmed or had been misgendered several times and this was the straw that broke the camel's back or had been on the internet practising and performing her ragey reaction to any future misgendering.
I avoided this watching this video for all of, mmm, let's see, 20 minutes because I knew I would feel this way.  I started out on commenting on trans-issues when I was ignorant but fairly benevolent towards the movement.  I was for instance outraged that people suggested that trans women shouldn't use women's bathroom.  I went from curious but supportive to curious to confused to irritated to now seeking out the detail about the worst excesses of TRA actions for the sole purpose of delighting in how terrible it all is.
When I say I'm becoming transphobic, it's not because I don't buy into any specific trans  ideology , it's because I've started to enjoy being horrified at the fringe elements of TRA nutters so much that I find the normal and helpful trans people and their allies boring.  Once in a while I'll do a purge of the gender critical and radfem people I follow just to limit my exposure to debates about trans horror stories.  Like people who identify as gender critical, I claim not to  wish any trans person any harm and to want them to be happy and flourish (I still believe the rule should be they use the bathroom of the gender they identify with and that they are women with more fundamental differences with cis women than some are prepared to admit but women all the same) but the compassion is gone which is where I think that sustainable and true tolerance comes from.  There is no attempt to see things from their point of view.  And I find their writing annoying, from words they use  like "literally deny the basis of our right to exist" to other words like "are".
I must fix that even though it is more fun to gasp and tut at the outrageous thing that the next TRA did or blame them for eroding my sympathy towards much more deserving trans people .  Regardless of what I end up accepting as biological fact, I want it to come from reason and not from irrational hatred.
Another thing about that video is the issue of overt  displays of male or, in this case, male presenting anger and the feelings it provokes in me.  The trans woman in the video kicked a couple of things and looked like she was going to attack someone for a short while.  However she didn't.  And as far as I could see there was nothing stopping her but herself.
Now I can completely understand the fear of overt displays of male rage, especially the fear that it will turn into a physical attack and  and no salesperson or customer should have to put up with the kind of behaviour displayed in the video.  I think videos showing cis women screaming and ranting are shocking but a well built man bellowing is terrifying to watch and there is a good chance that witnessing it would send me scurrying into instant submission.  Women have been known to cease resisting assault on the basis of nothing more than a shouting man.
I think it is a real problem, displays of male rage, how intimidating it can be, what it can lead to, what is intended by the rager and how we react to them.   I just don't have any clue of what the answer is.  People get angry – is it fair to assume that a man can't control himself from physically attacking someone because he is visibly angry?  But what if he can't, why should women or society take that risk?  Should a man always censor himself, having at the back of his mind that if he shouts someone is going to assume he will attack them?  Hmmm….investigations pending.